Feedback from Readers
Kudos, Compliments, Praise
Comments from Visitors
Awards and Reviews
for
The Spirit of Gardening
Website
"If it too wet, miserable or otherwise to be out, this is a delightful
and deep resource that will cheer you up and may even inspire you to greater levels."
- Living in Orkney, 2013
"Boasting over 3,500 gardening-related poems, quoatations, and articles, this site is an entertainment den
for both gardening amateurs and professionals. It is just a place to relax and enjoy, with no do-it-yourself
guides and no practical stuff. Their quotations and poems are carefully indexed, and they also have
a curious "history of gardening timeline". Their trees and flowers sections comprise tree and flower
related quotes, and their humor section provides " Jokes, Puns, Riddles, One-Liners and Humor for Gardeners".
Their weeding section doesn`t have weeding advice, as one would expect, but a long list of weeding
related quotes and verses. The spirituality section offers very politically correct "Quotes for Those that Love Gardens,
Gardening and the Green Way." All in all, if you are looking for gardening tips, you shouldn`t come here,
but if you just love talking about gardening, and you just want to relax, this will be your perfect chill-out room."
- Killer Start Ups, 2013
"Dear Unknown Gardner,
You have planted a multitude of gems (blossom) in your garden with thought provoking plots.
And, watered them well with long and tender care; and folks like me walk in and gaze at
the bountiful plantation and are amazed by your collection. And, I have plucked a few of the
bouncing, colorful, smiling, jumping and dancing delicate flowers, and adored (shared) at many a places.
Forgive me for this intrusion, like a big bumble buzzing bee I cannot avoid coming again and again into the patch,
and plucking a few trinkets to share with my acquaintances!"
- Jagjit, India, September 26, 2010

"Mike, this is Cindy from Garden Site Awards. You probably didn't know, but one of your website visitors
nominated your website for our "Best Garden Website Award" last week. We get over 150 nominations
each week but only a couple websites are given our award. After reviewing your site, we've decided
you deserve this month's Best Garden Website Award. Congratulations!! Keep up the great work on
your website! You have some excellent content already on it and I'm sure it will only get better."
- Cindy Meadows, December 6, 2006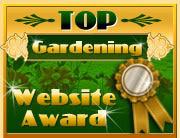 "If you truly enjoy gardening, do NOT visit this site unless you have
plenty of free time. Michael Garofalo has amassed an incredible
collection of garden history, quotations, poetry, art and garden wisdom.
I found that I'd "lost" a couple of hours just following a few of Michael's
links - and I've barely scratched the surface of this website. Material
is loosely organized by over ninety themes, and includes offerings from
numerous garden writers. This will be a most welcome visit any
time, but especially on a cold winter evening."
- Dan Eskelson, Clearwater Landscapes, 7 Jan 2000,
In the BRIEFMe Newsletter on Home, Garden and Decorating
"The History of Gardening Timeline has been cited in The Infography as one of the
most excellent sources of information about the subject of "Botanical Explorations
in the United States and Canada." This is truly an honor for your web resource,
because it has been selected and cited by a college professor who is a specialist
about this subject. Based upon this independent expert's recommendation, we
at Fields of Knowledge are pleased to refer students and librarians to the
information you have made available to the learning public."
- Howard Chesshire, Fields of Knowledge, 12 March 2002

"I laughed, I cried. I was touched, and inspired. What a wonderful collection of quotes. Thank you."
- Deborah Forst, 6/5/07, Edmonton, Alberta, Canada
"As events in the history of gardening coincide with or are indistinguishable
from important events in the history of plants and people, this superb
timeline contains relevant information for botanists and ecologists,
beginning in 15,000 BCE. Links in the text to reference sites
expanding the information of the timeline are outstanding.
Discover the earliest used and cultivated plants and plant
products, trends in agriculture, green mythology, and
early land management concerns at this site by
Michael P. Garofalo from Red Bluff, California."
- Scott Russell, PhD., University of Oklahoma, Scott's Botanical Links,
Reviewed by Leigh Fulghum, August 2000.
Positive Feedback from Readers in June 2006
Positive Feedback from Readers in June 2007
"A Jewel of a website!! Thank you!"
- Daniel Mack, The Woodlanders, 17 August 2003
"Hello Michael! When searching, spacing out, spacing in...........or whatever, you have entered my computer screen
many times. I have enjoyed many of your entries regarding qigong, gardening, etc.. Today I somehow wound up
with your photo of "Rooster Stands on One Leg" with your cat beside you. I smiled all over and spent the next 15
minutes drifting into various quotes, into the gardening sections, forwarded your gardening thoughts and poems
to a friend....... Thank you for your time, gentleness, awareness, humor - the many gifts you put out there for
anyone to enjoy. One of the many Internet travelers who has enjoyed visiting ......................"
- Lois, 6/24/07
NBCi Pick

Millennium Retrospectives
"A very in-depth composition on the history of gardening from ancient times
forward is located here. Don't miss the many embedded links that will lead
you to a more detailed understanding of the subject matter."
- Mary Heid, Study Web Editor, December 18, 2000
"Hi Michael, I bow to your work! It is truly amazing. It amazes me all the more for
a special reason: in the 90s I published a novel titled "Rabenwelt (Raven World)" in
German, and a key character there is a Hawaiian-Korean "Zen Gardener" called
Mr. "I am just a simple gardener" Makani. When I started browsing your website,
I really felt moved and thought: hell - Master Makani has his own website now.
Really beautiful and great work! Keep going! Kind regards from Germany."
- Stefan Thiesen, 5/1/06, Mind Quest
Lately, while wandering in the labyrinths of the virtual world, I suddenly found
myself at the doors of your beautiful garden. After a short walk, I was delighted
by its useful content, where the abundance of quantity has been well balanced
and supported with high quality! I will return there often, when the time allows,
to relax, slow down and remember ... In your Green Way, you collected many
of my favorite mind foods, like: Zen, poetry, nature, spirituality, meditation,
quotes, yoga and much more. All these dehypnotizing messages, presented
in a clear and simple way. So I decided to greet your efforts and pass you my
appreciation for this wonderful garden you have created.
- Kevork, September 30, 2004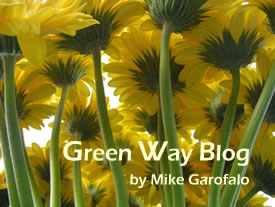 Over 10 million webpages (excluding graphics) have been served to readers
around the world from this website from January 1, 1999 to December 31, 2007.

A Short Biography of Mike Garofalo
Gardener, Compiler, Librarian, Philosopher, Web Designer
"A wonderful site, not only his nice haiku, but also a very nice and rich bibliography
about haiku on the Net, addresses for publishing , addresses of personal sites of
well-known writers; but above all, an exceptional site rich in quotes, about all that
is connected with gardening, built by a specialist in bibliography."
- Serge Tome, Free Times, 17 June 2000
"Walking Meditation Resources is an exhaustive resource for
walking and standing meditation."
- Graham English, Integral Conversations, 5/26/06
"Just wanted to let you know that I really enjoyed your site.
Your site is really well put together, nice to look at and easy to navigate.
Well done! Thanks for the quotes."
- Peggy Watkins, Singing Frog Books, e-mail, 23 March 2003
"Hi, Mike! I am just writing to say **thank you** for your wonderful web site. I can't even begin to count how many times
I have used it as a resource for my own web stuff, as well as simply a gentle, magical shelter for my sometimes weary spirit.
You really have created a treasure, a green oasis of inspiration. I resonate deeply with your own poetry and I so appreciate
your artfulness and wizardry. Many, many thanks for being who you are, and sharing yourself in the world in such a lovely way.
Blessings."
- Beth, 6/27/07
"I found your website today for the first time and I am stunned. So inspiring,
such ease of navigation, such attractive design.... words fail me."
- Liz, e-mail, 26 October 2003

"The History of Gardening: A Timeline from Ancient Times to the 20th Century
another virtual timeline, is authored by Michael P. Garofalo. The creator cites
Jim Folsom's TimeLine in his impressive bibliography. Both timelines
warrant a virtual visit."
- Carol Line, The Garden Web: Online Resources for New and Established Public Gardens, 15 February 2002


Selected by Marie Huston, Contributing Editor of Brambles & Rambles,
as a Recommended Site in Suite101.com's Best-of-Web Directory.
- E-mail from Barrie Bradshaw, Best-of-Web Directory, 18 January 2000
"Feeling harried, need a bit of diversion? Here is a great jumping off site.
Get your coffee or your herbal tea and wallow. You will find everything
from poetry to clichés, and the History of Gardening part is terrific."
- Winter at No Thyme Newsletter, By Nancy at No Thyme Productions, 21 January 2000
"Thank you, Thank you, Thank you! I was in 7th heaven when I came
upon your website. I did spend hours there and enjoyed every bit
of it. Especially the quotes about Seeing, Vision and Perspective. I am
doing a book about eyes and seeing and I was looking for poems and
quotes when I found your website. It is what I call a "one stop shopping
experience." Thank you again for all your inspiration to my project."
- Mary Higby, email, 13 September 2003
Seeing, Vision, Perspective - Quotes for Gardeners
"I discovered your website this morning. It is entirely delightful. I was infused with new
energy. My heart is merry for having discovered it and to have found a kindred spirit.
Tom Peters said, "Celebrate what you want to see more of." I am celebrating what you
are sharing with the world. You make a difference. In delightful gratitude."
- Jayne Mund, 6 January 2004, email
"The Spirit of Gardening web site is the work of Michael Garofalo, of California.
There is a gentle Zen-like quality about this web site as well. It contains a rich
collection of garden related quotes, poetry, parables and more. When I first
started exploring the Internet, I found Mike Garofalo's site to be one of my
favorite destinations. If you are interested in the spiritual side of gardening,
this site is definitely for you."
- Tom Spencer, Soul of the Garden: Cool Garden Websites, 9 September 2003
"The Spirit of Gardening was a distinct
inspiration in the creation of The Spirit of Trees!"
- Cristy West, Editor, The Spirit of Trees, e-mail, 25 March 2003

"Your site is wonderful! I was asked to give a talk on 'summer' and, in dutiful fashion,
undertook a little web-research and soon came across your beautiful site. It is attractive to
the eye, the heart and to the person looking for "summer ideas." This must have been a huge
project and I just wanted to thank you for all you've gotten done there. You made my day."
- Jay Stroud, 22 May 2004
"I want to thank you for your wonderful website, and especially for
the poetry that you wrote yourself. I like it very much! I don't know
if the website it is a labor of love or what, but it certainly is a great
help. I am a teacher and plan to have my students use it to find
quotes for their research papers, etc."
- Mary Greer, e-mail, 30 April 2004

"What a loving, soul-nurturing website you have! Your quotes are like
radiant blooming gems in a moon garden. Thank you so much for
putting up this website. A few quotes a day refreshed me inside out!"
- Patrick Yip, 3 September 2004


"This web site has one of the most complete collections of links to
haiku poetry that I have seen on the web. Carefully listed by names,
it gives you quick access to haiku links. But this is not all,
the site includes references and guides, a section on teaching haiku
poetry, and a collection of Zen quotations. Furthermore, Mr. Garofalo,
the founder, is very versatile. He has also posted The Spirit of Gardening
and Quotes for Gardeners. And, last but not least, his very fine and
sharp poems. So, haiku, Zen, the art of gardening, learning haiku, indexes,
links ... bring us a wonderful site. Excellent! A great contribution!"
- Carlos Fleitas, (E)literature, 15 March 2001
Listed by Traffic Ranking as one of the top 150,000 websites in the world,
with 692 links pointing to this website.
Rankings as of 15 May 2001.
Listed by Traffic Ranking with a web rank of 92,766
of the top 900,000 most visited websites in the world.
15,234 links point to this website.
Rankings as of 15 July 2005.
"I happened upon your site today and felt like I had rounded the
corner to find a magical garden. Such a wealth of information, so
deftly proffered. As a student of tai chi, a practitioner of chi gung --
and an avid gardener -- I simply wanted to thank you. Please
know that your efforts are appreciated. Peace!"
- David Gunter, Sandpoint, Idaho, e-mail, 19 August 2003

"This is a very good site with plenty of thought provoking
quotes and many links related to enhancing body
awareness through greater awareness of nature."
- Body, Soul and Spirit Awareness, 1 March 2001
"An almost overwhelming site ... great for your Master Gardener programs."
- Pesticide Notes, Michigan State University, June 2000
"I love your website and links to other websites!"
- Margaret Ritchie, Hudgins Garden Center and Nursery, 20 May 2004
"Your site is one of the most complete
everything-you-ever-wanted-to-know-about-gardening
sites that I have seen. I know that my customers would
be interested in the information that you provide."
- Theresa Knecht, e-mail, 22 August 2003, The Lawnmower Shop
"Mike Garofalo's Poetry Notebook pages have some of the best and up-to-date
haiku weblinkage available. These are well organized into alphabetical order, author
order, haiku resources, teaching haiku (by age group!!!), classic haijin, and more.
This is an all-time best site for haijin! *****
A great place for gardeners, haijin and philosophers to wander
for hours; an ongoing act of creativity."
- Debra Woolard Bender, Paper Lanterns, 23 December 2000

Reviews, Feedback and Praise for the Poetry Notebooks of Michael P. Garofalo
Reviews, Feedback and Praise for the Cloud Hands: Taijiquan and Qigong Website
Over 2,263,000 webpages (excluding graphics) served from the Cloud Hands Website
as of the end of December, 2006
"This is an amazing site with pages of Haiku poems, Tai Chi Chuan movements,
spiritual gardening, and other such diverse and interesting topics. This website
is another world. Very Zen. Ancient wisdom for modern times. Go see!"
- Lawrence Michail, Compassionate Dragon, 27 August 2003
"I find myself disposed to call the reader's attention to a site which maps most,
or all, it sometimes seems, of the large supplies of Zen poetry available on the
web. The listings include sites, titles, commentaries, quotes, and extensive links
to anything whatever relevant to the poet or poems, and can be found, as part
of a larger assembly, at Zen Poetry, edited by Mike Garofalo."
- Sam Hazelhurst, Proverbial Zen, 27 August 2001
"I was casting about on the web for something about Autumn, my favorite time of
year, and found your website. Oh my gosh ... so incredible! What an amazing
collection. You made my month. Thank you so much for all your work."
- Cynthia Wood, 1 September 2004
"What a wonderful website you have!! I'm sure you've heard that before,
but having just personally compiled a list of 600 gardening related quotes,
sayings, jokes, etc., I can honestly say yours was by far the most
thorough list of quotes I could imagine finding."
- Terry Lea, 26 October 2001, Dave's Garden

"An Excellent Website!" Five Star Rating
- Kirk Johnson, Managing Editor, Design Arts, Suite 101, 26 January 2000

History of Gardening Timeline from Ancient Times to 2000.
Ranked #1 in Hits for the Subject Category
by Direct Hit in December 1999
"I just wanted to take a minute to thank you for the wonderful site you have
created. I am a freelance writer and gardener living in Arizona and I have
enjoyed using your collected quotes for my articles, my book on
outdoor living spaces, and for personal inspiration. I appreciate the breadth of
your subjects, and the accuracy in the quotes and person quoted.
Thanks again for taking the time to do this!"
- Suzanne Pickett Martinson, e-mail, 23 March 2003

"Fantastic site created by Michael Garofalo in Northern California. His pure
intent is to offer many forms of garden inspiration via quotes, poems, one-liners,
wit, etc., gathered from many literary sources. A good index of subjects makes
searching easier. Often has bibliographies with subject.
Michael should be commended for his efforts and wonderful heart!"
- Christopher Forrest McDowell, Cortesia Sanctuary and Center, 24 August 1999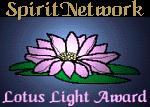 "For a fun site full of quotes, quips, sayings, and proverbs on gardening,
don't miss Mike Garofalo's Garden Digest."
By Stephanie Vollmer, 'How Green is Thy Thumb', Netscape Netcenter News, 4 April 1999
"I happened on your site by chance and found the quotes alive and thoughtful.
I sent some to a friend who is both struggling and finding meaning in gardening.
Thanks for your generosity."
- Irene B, Santa Monica, CA, 22 June 2004


"A fascinating site that is close to nature and includes haiku,
sayings, quips, quotes, proverbs, maxims ..."
Elizabeth St Jacques, Poetry in the Light: Links to Please, 15 May 2001
"This award-winning site tells a fascinating [History of Gardening]
story and tells it well, starting 10,000 years ago -- From Ancient
Times to 1700, the 18th Century, the 19th Century, the 20th Century,
plus a great list of reference sources. Part of Mike Garofalo's
The Spirit of Gardening website, a great place for gardeners."
- Keith Addison, Gardening Resources: Journey to Forever, 19 September 2000
"I am astounded by the depth and breadth of your website.
I have been lost there for many many hours. For an artist
who sculpts gnarly old tree trunks, your site is an oasis
and an inspiration. Thank you for what you have created."
- Fran, 14 September 2000

January 2003
"Read the quotes for gardeners, check out the history of gardening, laugh
at the jokes and humor, be inspired by haiku poetry, spirituality, and Zen poetry,
and discover a world of garden writing on the Net."
The Best of the Internet - Top Ten Gardening Sites, 7 December 2001
"I come back again and again to your website for
solace and inspiration, and to remind me why I garden."
- Anne Cox, email, 15 September 2003
"Your webpage is unique and your haiku delightful."
- Lucille Younger, Losing the Continents, 7 September 2000
"Michael, I visited your website today and really enjoyed it."
- Jim Harget, Cool Quotes, 12 December 2004
"This site has a rich selection of garden and
spirituality related poems, quotes, sayings, ...
I highly recommend it for those interested
in cultivating "higher" ground."
- Tom Spencer, Soul of the Garden, 9 March 2000
Host of Central Texas Gardener for KLRU television,
and host of the radio program Greenthumb Hour
"This site has terrific quotes for the gardener. Includes jokes, word
games, and thought provoking quips. Four Star Rated."
- Briana Isaac, 23 May 2000, High Desert Gardens
A Short Biography of Michael P. Garofalo
"I am a member of the board of directors for the Michigan Horticultural
Therapy Association. I write a quarterly newsletter for our membership and
the last page always features some inspirational writing. I am so excited that
I found your site! Each newsletter I pour over various garden magazines and
books, looking for the perfect season related writing, but I need to search no
further. Your site is exceptional - one of a kind.
I was delighted to discover it.
Thank you for maintaining this site."
- Ellen, 23 August 1999

Great Garden Links of the Garden Spot (February 1999)
"A very impressive gardening e-zine ... I look forward to many happy hours browsing it.
What a joy it is to find so many creative and informed ways of sharing knowledge on the
Internet! It just gets better and better every year! By the way, thanks for the extensive
list of haiku links. It's bound to bring more gardeners into the haiku community."
- Jeanne Emrich, Haiga Online, 2 November 1999
Your website is awesome! I really use it as a resource because of its intricacy
and frequently updated content. Thanks for a great website.
- Brian, 1 September 2004
"Web Site of the Day!
Virtual Digs: Love gardening but don't want to spend the
day stoopin' and squattin' in the mud? Try literary gardening at
this site, complete with links and a collection of poems
and other writings about life with green thumbs."
- The Cincinatti Enquirer On-Line, 2 July 2001

"I just want to thank you for such a lovely site. I believe
deeply that the garden offers meaning, in many ways.
Your site helps put some on these feelings into words."
- Jackie Monders, Toronto, Canada, e-mail 10 October 2004

"One of my favorite sites for nature related quotes is The Spirit of Gardening."
- Meditation and Journaling, Solitary Pagan.Net, Lavender Moon, 2001
Portions of the essay
Gardening and Spirituality
were published in Psychic Reader
(June 2000, Volume 25, No.6)
and titled: "The Way of the Gardener."
The History of Gardening Timeline is listed in
Systematic Botany Resources for Reference Librarians
by the University of Maryland

The Spirit of Gardening website
ranked #1 in popularity for the subject category
by users at NBCi.com on October 1, 2000.
"What an amazingly useful site, Michael. I can't believe
the wealth of information you have compiled."
David Hobson, 20 April 1999
"This site packed with garden writings --
quips, quotes and philosophy" - Garden Humor.
"One of the most comprehensive collections of links to haiku resources
on the Internet, assembled by Michael P. Garofalo. He is also a
gardener, and his site, while very thorough on haiku, can take
you to other corners as well."
- William J. Higginson, Open Directory Haiku Editor, 30 May 2000
"I wanted to let you know how much I enjoy your website.
The site is a veritable Alladin's Cave of knowledge.
Please keep up the good work!"
- David Chan, London, 9 September 2004
"What a wonderful and generous site....
Thank you again for this garden of "wordly" delights!"
- Joyce McGreevy, 18 February 2000,
Author of Gardening by Heart: The Extraordinary Gift of an Ordinary Garden, 2000
"We have looked at The Spirit of Gardening web site
and think the quotes and humor on it are excellent!"
- Rob & Sarah Wheadon, 25 April 2000,
Editors of The Garden Magazine





"I just happened upon your web page while searching for another site.
What a delightful surprise! Thank you for offering such positive, glorious
thoughts to all of us. This is the most personally valuable website I have
ever visited. Thank you, thank you, thank you!"
- Joan, 21 November 1999
"Mike Garofalo's home page will take you to a wonderful "timeline" of gardening history from
ancient Egypt and earlier all the way up to the present time; he also has essays,
links, and an amazing and wise collection of poetry and quotes on gardens, gardening,
and nature. Quotes are organized into very specific categories
so it's easy to find what you want on any topic."

- Kathleen Jenks, Ph.D., Pacifica Graduate Institute,
MyThing Links: Tree and Plant Lore, 18 March 2000
Quotes from The Spirit of Gardening web site are regularly used
in the Master Gardeners' Newsletter of Delaware County, Pennsylvania,
Pennsylvania State University Cooperative Extension,
edited by Tina Coleman.
I check out a lot of websites. Yours is absolutely beautiful.
Thank you for a refreshing and insightful experience.
- Ruth Lewis, Virginia, e-mail, May 8, 2004
"THANK YOU to Michael Garofalo of The Spirit of Gardening
for many of the quotes on this page!"
- Sanctuary in Jesus, Biblical Gardens, 1 March 2004
"THANK YOU Michael Garofalo of The Spirit of Gardening
for sharing many of these quotations!"
- The Quote Garden - Garden Quotes, 11 August 2004
Thanks for putting all the lovely saying and poems on your website.
I am an art teacher. My fourth graders just made handmade paper from
recycled leftover paper from cutting out other art work. I plan to have
them practice drawing trees and then carefully paint trees on our round,
very fragile handmade paper. I am going to have them read some of the
wonderful pieces from your web site and then come up their own ideas
about trees. Thanks for the inspiration. Happy Arbor Day....
- Sheila Thomas, Hawthorne, Florida, 7 May 2004
Take care, keep up the good work and I appreciate your website
using my original quotes. I promote your website in my
landscaping workshops and on my radio show whenever I can.
- Teresa Watkins, University of Florida, Central Florida Yards and Neighborhoods, 28 April 2004
"I have visited and enjoyed your website extensively in the past. I wanted
to thank you for keeping it up and running. I often revisit when my spirits
are low and I need something to keep me going. It may sound silly, but
finding the truths and wisdom in the quotes an poems reminds me
that I'm not always as alone as I think I am. Thank you!"
- Mary Dickerson, 21 November 2004
"Excellent source!"
- Fields of Knowledge, 28 August 2001

"I've visited your site a number of times and found it a great resource."
- Rebecca Green, Horticulturist, My Deer Garden, 17 June 2000
"Pick O' Crop"
History of Gardening Timeline
Selected by I Can Garden, 21 January 2001
"Literary gardening has an online home here, with links and a
collection of poems and other writings about life with dirty
fingernails and green thumbs."
- Philadelphia Inquirer, 21 June 2001





"Your site is wonderful and is a great resource and inspiration!
Thanks for putting it together!"
- Shane Smith, The Greenhouse Gardener's Companion, 28 December 2000

"Spiritual quotes for gardeners."
- Gardening For Grounding To Mother Earth, Suite 101, by Cynthia Kinnecom, 1 June 1999
.
"I loved your site. Keep up the good gardening/literary work, Mike.
I intend to be a frequent visitor to your site."
Jeff Taylor, Tools of the Earth, 12 May 1999
"I love words and for the life of me, I can't come up with one that describes my
experience after viewing your site. I was lost for hours! I've visited other sites that
fascinated me before, but yours ... stupendous, fantastic, terrific, all encompassing,
riveting, refreshing, new and exciting. You have everything that I love -- nature,
humour, philosophy, life, gardening, poetry, etc. Thank you, Thank you!"
- Janette Vercammen, Airdrie, Alberta, Canada, e-mail, 16 August 2002

"A timeline for the history of gardening/farming from Ancient times to 2000.
Absolutely fascinating timeline!"
Search Beat - Gardens and Gardening, 17 July 1999
History Timelines - The History Beat
"Enjoying, immensely, reading from your extensive site.
It's everything I looked for in one sprawling place!
A flower in the middle of a wasteland.
Thank you!"
Teresa Miceli, 5 December 1999
"I have been doing research for a small exhibit on gardening for the
Maine Historical Society, and have found your site to be marvelous!!
It is interesting, well laid out, and the links provided are
wonderful sources of information. Thank you!"
- Jenny Mitchell, 20 February 2000
"I just wanted to say what a wonderfully inspiring website you have created.
It is really nice to come across a page full of well-directed, concise thoughts -
and complied in such a useable way. Lovely - thank you very much indeed
for all the time and effort you have put into these webpages."
- Nicola Auf der Maur, e-mail, 12 October 2002, Le Concierge

"I am very much impressed with your webpage on R. H. Blyth. Your
pages express a simple elegance, are informative, meaty, and easy to read."
Richard Gilbert, e-mail 9 March 2002, Quiet Site
"In browsing the web tonight, I came across your site.
It is truly beautiful and an amazing place to relax!
You have created a magical site. I very much enjoyed my time there!
You honor your subject."
Maureen Lasley, Library Media Teacher, Red Bluff, 1 October 2001

"History, quotes, readings, poetry, etc. for gardeners and plant lovers alike."
- Bryan Ness, About.Com Botany Guide, In The Spotlight, 20 January 2000

"These are some fine links we've discovered after dark while the garden is sleeping."
The Gifted Gardener Website, 28 June 1999

What's New On Yahoo, July 14, 1999

"The Spirit of Gardening: quotes, proverbs, articles, links, and resources for the gardener."
Super Site!
- David Hobson, Garden Humor, 13 May 2001
"The Spirit of Gardening: Loads of links to garden sites, faerie sites;
reading materials, poetry ... and so much more!"
- Tina's Garden, 30 July 1999

"Un site à lire et à relire. Très bien!"
- Lienssuite, 28 September 2001
Strings on Your Fingers
"A very impressive webpage of links by Michael P. Garofalo, including a couple
in French: Jeux de ficelle and Les Ficelles Enchantées. Be sure to check out
the excellent bibliographical links."
- From the Pool to the Cradle, 28 August 2002
"I was impressed by the historical section of your web site,
then I found the quotes ... What can I say . . . garden chuckles!
Thanks for the tears in my eyes and the joyful pain in my side!!!"
- Amy Yeip, 2 February 2000,
Vice President of the Terra Nova Horticultural Society in Michigan.

"Thank you for the wonderful resource for gardening quotes. As an
English major myself, I appreciate the ability to capture the fleeting
essences of life in words ... your site manages to do that in many ways."
- Christine Bonney, 14 January 2000
"I love visiting your site. It is as soothing as a walk in a cool garden."
- Lisa Schamess, 25 April 2002, Borrowed Light (SMU Press)
I have enjoyed your webpages so much!
When I am in need of refreshing my batteries,
so to speak, I find your gardening webpages a nice "charge."
- Katrina, 8 March 2001
The Spirituality of Gardening. By Donna Sinclair. Kelowna, BC, Canada,
Northstone Publishing, 2005. This book includes substantial portions,
with my permission, of my History of Gardening Timeline.



"Gardeners need to laugh at themselves every once in a while so we don't
take our passion too seriously. The Spirit of Gardening website offers
a fun collection of gardening quotes, quips, sayings, proverbs, and
plays on words. Categories include garden history, trees, flowers,
ideas from the backyard, garden writing on the internet, and
suggested inspirational readings."
- Yvonne Savio, Southern California Coastal & Inland Valleys, 2 November 2000
Usage Statistics for the Garden Digest Website
The web site www.gardendigest.com went on-line on January 1, 1999
"I just found your site and think it is wonderful.
I am about to tell all my friends to visit."
- Elizabeth Law, 29 July 1999
A Small Irish Garden
"I've been thoroughly enjoying your website. Keep up the good work.
Thank You for your passion in gardening!"
- LeeLeeMom, 13 July 1999

Ten documents from the Spirit of Gardening website
have been selected by editors for subject categories
in the DMOZ Open Directory Project:


Science - Social Sciences - Archaeology - Periods and Cultures - Prehistory - Neolithic
Reference - Quotations - Wisdom
Arts - Crafts - String Figures
Arts - Literature - Poetry - Traditions - Religious Poetry - Taoism
Trees
Poetic Forms - Haiku and Related Forms
History of Arts
History of Gardening
Personal Haiku Pages
Society - History - Cultural History
Society - Religion and Spirituality - Buddhism - Lineages - Zen - Arts - Poetry

Author Index to Haiku Poems on the Internet




17 June 2000
"The Spirit of Gardening website offers readers a literate side to
gardening - hundreds of quotations, quips, proverbs and much more
with nature, spirituality and gardening as the subject. Very
enjoyable - you will find yourself returning often!"
- The Angelgrove Tree Seed Company, 6 January 2000
"I think if I would've been any happier reading all your wonderful quotations
I would have fainted from word pleasure. Thank you for your great site!"
- Terri, 18 September 2000

"I logged onto your website today to find some gardening quotes
to use in an announcement that our Integrated Medicine Program
is making about an intensive gardening seminar at our hospital.
Your quotes not only served my purpose perfectly, but also
delighted me and enlightened my day. Thank you so much for
adding a bit of soul to the experience. Peace,
- Betsy Blazek-O'Neill, MD, Medical Director.
AGH Integrated Medicine Program. 1 April 2005
"Thank you for sharing your wonderful site with the world."
- Shauna Nagy, Gardener's Paradise, 22 October 1999
"Wonderful sayings, proverbs, predictions and
clichés on this Weather Lore page."
- Valerie, Talking it Over, 15 May 2000
"Just like you to know I have just spent an hour reading through your
gathered quotes and they really lifted my spirit. I am unable to get into
my garden due to ill health at present, and I feel like I've just had
a wonderful sunny afternoon in yours!!"
- Alys, New Zealand, 17 September 2000
"I just stumbled onto your gardening and spirituality site and
feel like I've been given the BEST gift! Thank you for putting
this together. I will be referring to it all the time, and saying
a thank you prayer for your taking the time to design it."
- Kathy Lehmkuhler, Master Gardener, Richmond, Virginia, 9 October 2000
"Your web pages on gardening wisdom and thoughts are
most impressive - keep up the fine work."
- Mike Steven, University of Western Sydney, Australia, 10 October 2000
"When you come in from your garden at the end of the day, tired and
perhaps discouraged by how little you've accomplished and how much
you still have to do, maybe a little gardening humour will brighten your
day. Reading the quotes on the Jokes and Humor for Gardeners may
be just the thing to give you that renewed energy to tackle the garden
again another day."
- Vicky Vickers, Word Cruncher - Spring is Sprung, March 2001
"Hello from Australia. Thank you for such a beautiful, uplifting,
and unending website. I'm about to embark on a new garden
and feel all the better for spending a quiet hour reading your
many resources. I shall take more time again soon to re-visit."
- Vivian Anderson, 9 September 2004
"Your website is fantastic."
- Alan Rockman,
Civil War: Garments, History, Legends and Lore, 2 November 2000
"You have a terrific website. It is a great resource."
- Stephen Hui, Sweet Oranges, 20 January 2001
"Navigating your web site is like taking a nature walk, you
never know what might be over the next hill, around the
next bend, or under the next rock ... Very Nice!!!"
- From pnj, 1 February 2001

"Thank you for providing this peaceful place to read and enjoy
online. In a time when most of the content online is a wasteland
of resellers, advertisement and porn, it is a comfort to know that
someone cares about the real things in life."
- Starrie, 28 January 2001
I have visited your site a couple of times now, and love it!
I can't believe the plethora of information!
- Shelly Young, 2 July 2004, Home and Garden Zone
"This site is for the armchair gardener – site is dedicated to jokes,
quotes, poetry, saying, quips, maxims and wisdom all with a
gardening theme. There is also a wealth of other material –
essays on garden history, from ancient to modern times."
- Tern Television Productions, 13 May 2001
Parts of the History of Gardening Timeline were reproduced in the
Nebraska Herbal Society Newsletter for December 1999.
"I teach first grade public school in Nashville, Tennessee.
Thank you for making this poetry freely available to me.
It is a valuable resource. First graders love poetry
when so fostered."
- Carl Hester, December 2004


For quips, quotes, jokes and philosophy, Michael P. Garofalo
has done an amazing job. He has listed pretty much every
comment ever made about gardening, all concisely arranged
and presented. A pleasure to read.
- David Hobson, Winter Surfing Plants Ideas for Summer, The Record, December 2001
I love your Thematic Index of Quotations for Gardeners. I return to it
again and again; and its richness never fails to amaze me.
Thank you, thank you!
- Bea Greenwald, 30 June 2004
"I love your site and will recommend it often in my work and articles."
- Teresa Watkins, 25 April 2002, Master Gardener, Gardening With Soul
Many web pages from The Spirit of Gardening web site
are listed in the following search engines:

Yahoo ... Alta Vista ... MSN Web Search ... LinkOPedia
Lycos ... NetFind AOL ... Excite ... Northern Lights
Metacrawler Go2Network ... Ask Jeeves
Infoseek ... Hot Bot ... Dogpile ... Google ... Looksmart
All the Web, All the Time ... Direct Hit ... WebTop.Com
Suite 101 Best of the Web ... Sympatico ... Open Here
Ask Jeeves for Kids ... Snap.Com ... WebsMostLinked.Com
A Special Thanks to the Following Web Sites for Sending Visitors to
The Spirit of Gardening Web Site

Chatelaines' Essential Web Guide

Spirituality and Concerns of the Soul
Simplicity and the Simple Life


Pulling Onions
Quips and Observations by Michael P. Garofalo

Haiku Poetry - Links and References
Cliches for Gardeners and Farmers

The History of Gardening Timeline
From Ancient Times to the 20th Century
Short Poems and Haiku by Michael P. Garofalo
Quotes for Gardeners

Quotes, Sayings, Proverbs, Poetry, Maxims, Quips, Clichés, Adages, Wisdom
A Collection Growing to Over 2,700 Quotes, Arranged by 130 Topics
Many of the Documents Include Recommended Readings and Internet Links.
Compiled by Michael P. Garofalo
---
---


Distributed on the Internet by Michael P. Garofalo
I Welcome Your Comments, Ideas, Contributions, and Suggestions
E-mail Mike Garofalo in Red Bluff, California
A Short Biography of Mike Garofalo
Awards - The Spirit of Gardening Website (www.gardendigest.com):

The History of Gardening Timeline
Cloud Hands: Taijiquan and Qigong
September 27, 2013