Weeds and Weeding
Pruning, Thinning, Culling
Quotes for Those that Love Gardens, Gardening and the Green Way
Compiled by Karen and Mike Garofalo

"And so it criticized each flower,
This supercilious seed;
Until it woke one summer hour,
And found itself a weed."
- Mildred Howells, The Different Seed
"A good garden may have some weeds."
- Proverb
"But a weed is simply a plant that wants to grow where people want something else. In blaming nature, people mistake the culprit. Weeds are people's idea, not nature's."
- Anonymous
"What is a weed? I have heard it said that there are sixty definitions. For me, a weed is a plant out of place."
- Donald Culross Peattie
"What is essential to practice the Tao is to get rid of cravings and vexations. If these afflictions are not removed, it is impossible to attain stability. This is like the case of the fertile field, which cannot produce good crops as long as the weeds are not cleared away. Cravings and ruminations are the weeds of the mind; if you do not clear them away, concentration and wisdom do not develop."
- Chang San-feng, legendary founder of T'ai Chi Ch'uan, circa 1300 A.D.
"Wisdom is oftentimes nearer when we stoop than when we soar."
- William Wordsworth, 1798
"Our attitude towards plants is a singularly narrow one. If we see any immediate utility in a plant we foster it. If for any reason we find its presence undesirable or merely a matter of indifference, we may condemn it to destruction forthwith."
- Rachel Carson
"My idea of gardening is to discover something wild in my wood and weed around it with the utmost care until it has a chance to grow and spread."
- Margaret Bourke-White
"Many things love to come and live off your plants, including bacteria, bugs, birds, and bunnies. If you don't control them, entire crops can be ruined. The result of your careful cultivation, in your garden and in your life, can be lost to predators in a short time. ... Take a look at your life, what toxic relationships, substances and emotions are feeding on your energy and taking away from what you have to give to others. Eliminate them."
- Vivian Elisabeth Glyck
"Our England is a garden, and such gardens are not made
By singing 'Oh how wonderful' and sitting in the shade,
While better men than we go out, and start their working lives
By grubbing weeds from garden paths with broken dinner knives."
- Rudyard Kipling
"What would become of the garden if the gardener treated all the weeds and slugs and birds and trespassers as he would like to be treated, if he were in their place?"
- Thomas Henry Huxley
"More grows in the garden than the gardener sows."
- Spanish proverb
"A weed is but an unloved flower."
- Ella Wilcox
"Weeds Never Die."
- Danish Proverb
"The unmulched garden looks to me like some naked thing which for one reason or another would be better off with a few clothes on."
- Ruth Stout
"You fight dandelions all weekend, and late Monday afternoon there they are, pert as all get out, in full and gorgeous bloom, pretty as can be, thriving as only dandelions can in the face of adversity."
- Hal Borland
"If you are a garden plant you are regarded; well regarded, just as long as you stay in the garden."
- Davies Gilbert

"A weed is a plant that is not only in the wrong place, but intends to stay."
- Sara Stein
"Everyone has enough weeding to do in their own garden."
- Flemish proverb
"I consider every plant hardy until I have killed it myself."
- Sir Peter Smithers
"A flowering weed;
Hearing its name,
I looked anew at it."
- Teiji
"Only God can make a tree, but I'm in charge of seeds and weeds!"
- Author Unknown
"A flower is an educated weed."
- Luther Burbank

Months and Seasons
Quotes, Poems, Sayings, Verses, Lore, Myths, Holidays
Celebrations, Folklore, Reading, Links, Quotations
Information, Weather, Gardening Chores

Winter
Spring
Summer
Fall
January
April
July
October
February
May
August
November
March
June
September
December
"What is a weed? A plant whose virtues have not yet been discovered."
- Ralph Waldo Emerson, Fortune of the Republic
"What a diversity of creative wanderers - Weeds. I enjoy their beauty and variety, and do nothing to reap their rewards. I neither hoe, nor plant, nor water, nor fertilize, nor prune. They come and go in lovely profusion as the seasons move. Often a pleasure, sometimes a pain in the wrong place; and always an example of the wondrous assertion of Being."
- Mike Garofalo
"Crabgrass can grow on bowling balls in airless rooms, and there is no known way to kill it that does not involve nuclear weapons."
- Dave Barry
"One of the truest of gardening sayings is that you have to be cruel to be kind. If things are left to go overgrow, they look out of shape, scale and control."
- Brian Davis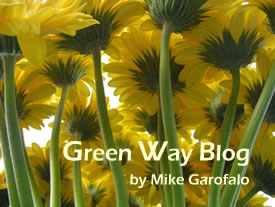 "I always think of my sins when I weed. They grow apace in the same way and are harder still to get rid of."
- Helena Rutherfurd Ely, A Woman's Hardy Garden, 1903
"Sweet flowers are slow and weeds make haste."
- William Shakespeare
"I do not scorn weeds. As a matter of fact, there are some instances where they are necessary for the garden. The question of propriety is decided by the dialogue between man and weed."
- Shimpei Kusano
"People who spend a great deal of time in their gardens attest to the natural mindfulness that gardening requires. What could be more naturally mindful than weeding? It requires a great deal of sustained attention. Weeds need to be taken up with care: Pull too hard, and the weed breaks in your fingers, leaving the root to grow and spread. Different weeds need different techniques and, sometimes, tools. When we weed our gardens, we have to pay attention to where and how we walk and bend. Move too far in one direction or another, and we'll squash growing things."
- Sura Lama Das, Awakening to the Sacred
"Gardening is a kind of disease. It infects you, you cannot escape it. When you go visiting, your eyes rove about the garden; you interrupt the serious cocktail drinking because of an irresistible impulse to get up and pull a weed."
- Lewis Gannit
"A garden is a symbol of man's arrogance, perverting nature to human ends ..."
- Tim Smit, The Lost Gardens of Heligan
"The prayer of the farmer kneeling in his field to weed it, the prayer of the rower kneeling with the stroke of his oar, are true prayers heard throughout nature."
- Ralph Waldo Emerson
"They know, they just know where to grow, how to dupe you, and how to camouflage themselves among the perfectly respectable plants, they just know, and therefore, I've concluded weeds must have brains."
- Dianne Benson, Dirt, 1994, p. 128
"Weeds are flowers too, once you get to know them."
- A. A. Milne, Eeyore from Winnie the Pooh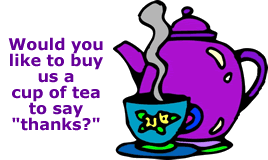 "If you are not killing plants, you are not really stretching yourself as a gardener."
- J. C. Raulston
"When I have the time to take a walk, I would often take the time to admire the grass. Grass doesn't make a fuss. It doesn't try to be beautiful or outstanding. It doesn't want to attract attention. It is so humble that it even allows people to walk all over it. Yet, it possess such strength. It glows in healthy green despite being stepped all over, and when a typhoon strikes and all the flowers die and all the trees get uprooted, humble grass survives. And humble grass, in its own humble way, provides food for animals, shelter for insects, and joy to some funny guy walking past. I think a virtuous man should be like grass. Humble, unnoticed, yet possessing great strength and kindness."
- Tan Chade Meng

"Free Weeds - U Pick 'Em"
"Weeds don't need planting in well-drained soil; they don't ask for fertilizer or bits of rag to scare away the birds. They come without invitation; and they don't take the hint when you want them to go. Weeds are nobody's guests: More like squatters."
- Norman Nicholson
"A weed is a plant that has mastered every survival skill except for learning how to grow in rows."
- Doug Larson
"Man is by definition the first and primary weed under whose influence all other weeds have evolved."
- Jack R. Harland
"There is not a sprig of grass that shoots uninteresting to me."
- Thomas Jefferson
"My basic weeding rule: if they grow in rows they're flowers; if they don't they're weeds."
- David Hobson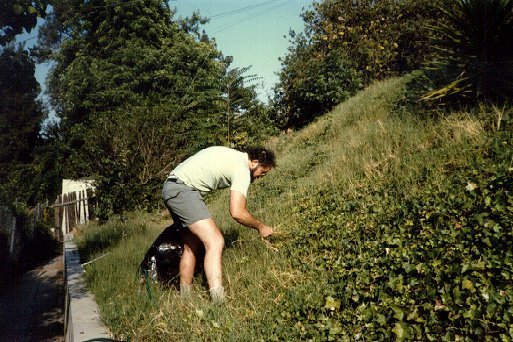 And you thought you had a big weeding job ahead?
Mike Garofalo weeding a slope of ivy in 1983 in Hacienda Heights, California.
"If dandelions were hard to grow, they would be most welcome on any lawn."
- Andrew V. Mason
"Weeds are really Perennial`s that ha'nt been Educated yet!"
"We can in fact only define a weed, mutatis mutandis, in terms of the well-known definition of dirt - as matter out of place. What we call a weed is in fact merely a plant growing where we do not want it."
- E. J. Salisbury, The Living Garden, 1935
"Weed 'um and reap!"
"On no other ground
Can I sow my seed
Without tearing up
Some stinking weed."
- William Blake
"For Zen students, a weed is a treasure."
- Shunryu Suzuki
"The true gardener then brushes over the ground with slow and gentle hand, to liberate a space for breath round some favorites; but he is not thinking about destruction except incidentally. It is only the amateur like myself who becomes obsessed and rejoices with a sadistic pleasure in weeds that are big and bad enough to pull, and at last, almost forgetting the flowers altogether, turns into a Reformer."
- Freya Stark
"Brushed, they erupt in poison, invisible, adamant as unrequited love; but should you, in rage and pain, crush the offending branch, the blood of nettle will surely heal you, just as, scalded, the spiteful shoots turn tame and nourishing."
- Gwen Head, Stinging Nettle
"Weeds grasp their own essence and express its truth."
- Santoka, Diary, 8/19/40
"Nothing is as interesting as weeding. I went crazy over the outdoor work, and at last had to confine myself to the house, or literature must have gone by the board."
- Robert Louis Stevenson
"One year to seed; seven to weed."
"Weeds are Like People: We may be different but you gotta dig us."
- Lyndsay
"I guess a good gardener always starts as a good weeder."
- Amos Pettingill
"If I wanted an easy care garden, I would have planted weeds."
"... the actual cultivation of root crops began with the weeding out of less useful plants from natural communities to allow more room for the desired plants. This was followed by the realization that the crop "roots" could be planted and would thrive in comparable habitats not already containing them if these, too, were weeded."
- H. G. Baker, Plants and Civilization, 1978
"That's Roman wormwood - that's pigweed - that's sorrel - that's piper-grass - have at him, chop him up, turn his roots upward to the sun, don't let him have a fibre in the shade, if you do he'll turn himself t'other side up and be as green as a leek in two days. A long war, not with cranes, but with weeds, those Trojans who had sun and rain and dews on their side. Daily the beans saw me come to their rescue armed with a hoe, and thin the ranks of their enemies, filling up the trenches with weed dead. May a lusty crest-waving Hector, that towered a whole foot above his crowding comrades, fell before my weapon and rolled in the dust."
- Henry David Thoreau, Walden, 1854
"Plant and your spouse plants with you; weed and you weed alone."
- Dennis Breeze

"We plant seeds that will flower as results in our lives, so best to remove the weeds of anger, avarice, envy and doubt, that peace and abundance may manifest for all."
- Dorothy Day
"Give a weed an inch and it will take a yard."
- Author Unknown
"A man of words and not deeds,
Is like a garden full of weeds."
- Nursery rhyme
"Long live the weeds that overwhelm
My narrow vegetable realm!
The bitter rock, the barren soil
That force the son of man to toil;
All things unholy, marred by curse,
The ugly of the universe."
- Theodore Roethke, Long Live the Weeds
"A person's character and their garden both reflect the amount of weeding that was done during the growing season."
- Author Unknown
"Their names I know not,
But to every weed its flower,
And loveliness."
- Sampu
"If a person cannot love a plant after he has pruned it, then he has either done a poor jobor is devoid of emotion."
- Liberty Hyde Bailey
"Next and hardy annuals are the ones that never come up at all."
- Katherine Whitehorn
"I would rather see one happy plant of knotweed than half a dozen aristocratic individuals struggling unsuccessfully."
- Marguerite James
"The indignity of it!-
With everything blooming above me,
Lilies, pale-pink cyclamen, roses,
Whole fields lovely and inviolate,-
Me down in the fetor of weeds,
Crawling on all fours,
Alive, in a slippery grave."
- Theodore Roethke, Weed Puller, 1948
"Hoeing: A manual method of severing roots from stems of newly planted flowers and vegetables."
- Henry Beard
"My garden is a balancing act between weeds and wonders. Though I started out as a frustrated perfectionist, over the years I've learned how to enjoy my garden rather than feel enslaved by it, thanks to a growing know-how and a change in mindset."
- Carol Stocker
"Gardens can be sharp and spiky as well as rose-embowered and honeysuckle-twined: there are corners and settings where thistles are not such an asinine taste after all."
- Robin Lane Fox, Thoughts on Thistles, 1986
"But make no mistake: the weeds will win: nature bats last."
- Robert M. Pyle
"The true gardener then brushes over the ground with slow and gentle hand, to liberate a space for breath round some favourite; but he is not thinking about destruction except incidentally. It is only the amateur like myself who becomes obsessed and rejoices with a sadistic pleasure in weeds that are big and bad enough to pull, and at last, almost forgetting the flowers altogether, turns into a Reformer."
- Freya Stark, Perseus in the Wind
"weeds and wildflowers
in widower's garden
no green thumb, no more"
- Victor P. Gendrano
"The philosopher who said that work well done never needs doing over never weeded a garden."
- Ray D. Everson
"A weed is no more than a flower in disguise."
- James Russell Lowell, The Growth of a Legend, 1847
"Before falling to the scythe
the weeds
enjoy a little breeze."
- Peter Levitt, 100 Butterflies
"And the headbonny ash that sits over the burn.
What would the world be, once bereft
Of wet and of wildness? Let them be left,
O Let them be left, wildness and wet:
Long live the weeds and the wilderness yet."
- Gerard Manley Hopkins, 1844-1889, Inversnaid
"To rid the grass of weed, to get
The whole root,
Thick, tangled, takes a strong mind
And desire -- to make clean, make pure.
The weed, tough
As the rock it leaps against,
Unless plucked to the last
Live fiber
Will plunge up through dark again.
The weed also has the desire
To make clean,
Make pure, there against the rock."
- Lucien Stryk, 1924- , Zen: The Rocks of Sesshu, And Still Birds Sing, 1998
"The Moon, the dried weeds
and the Pleiades -
Seven feet tall
the dark, dried weed stalks
make a part of the night
a red lace
on the milky blue sky"
- William Carlos Williams, In This Strong Light
"All gardens, even the most native and naturalistic, benefit from the hand of an artful pruner. In this season where the garden is poised for the green flood of springtime, remember that our gardens are co-creations, shared with mother earth. And like any good mother, she expects you to tidy up your room. Now get clipping!"
- Tom Spencer, Soul of the Garden
"Weeds are the little vices that beset plant life, and are to be got rid of the best way we know how."
- Farmer's Almanac, 1881



"It is not enough for a gardener to love flowers; he must also hate weeds."
- Anonymous
Time and the Art of Living by Robert Grudin. An inspiring study of the meaning of time in our lives.
The Green Man (Personification of the Powers of Spring and Summer): Lore, Quotes, Bibliography, Customs, Poetry.
"Man is by definition the first and primary weed. Weeds are not the other. Weeds are us."
- Michael Pollan, Weeds Are Us
"Even though flowers fall, don't regret it. Even though weeds grow, don't hate them. Don't arouse the passions of attraction and repulsion, hating and loving. If only we don't arouse the passions, the falling of flowers and the growing of weeds as they are is manifest absolute reality.
- Zen Master Hakuun Yasutani, 1885 - 1973, Flowers Fall
"The only two herbicides we recommend are cultivation and mulching."
- Organic Gardening
"I'm dirty, tired, sore, and my face is red; and, every damn weed in that garden is dead. Gardening is a kind of deadheading - keeping us from going to seed.
Weeds multiply in direct proportion to your efforts to eliminate them.
Weed when wet - weeds thrive; weed when dry - weeds die.
Left to themselves, weeds tend to go from there to everywhere.
The oak and bindweed grow in the same soil;
seeds and scissors go back into the same shed.
Your hand hoe will always find its way to the bottom of the weeding barrel.
Pulling weeds can also clear the mind."
- Michael P. Garofalo, Pulling Onions
"Removing the weeds, putting fresh soil about the bean stems, and encouraging this weed which I had sown, making the yellow soil express its summer thought in bean leaves and blossoms rather than in wormwood and piper and millet grass, making the earth say beans instead of grass, - this was my daily work ...."
- Henry David Thoreau, Walden, 1854
"Oh, hardy flower, disdained as weed,
Despised for head of feathery seed,
Your unsung virtues rate a ballad,
Choice roots for wine, crisp leaves for salad."
- Betty Gay, Dandelion
"Weeds -
lengthen
with the days."
- Issa, Translated by Lucien Stryk
"Roots of the weed sucked first life from the genesis of earth and hold the essence of it still. Always the weed returns; the cultured plant retreats before it."
- Beryl Markham, West with the Night, 1942
"As one grows older one should grow more expert at finding beauty in unexpected places, in deserts and even in towns, in ordinary human faces and among wild weeds."
- C.C.Vyvyan
"My garden slumbers in the winter, peaceful, quiet, weedfree. It's tranquil in this setting, no weeds to be seen. But comes the spring with its warmth and flowers delight then the weeds poke out their ugly head, what a nightmarish site. I pull, I scream, they reappear. My husband says "Didn't we just do this last year, dear?" My endless battle, it seems, I'm doomed not to win.
Is shooting your weeds considered a sin?"
- Christine Blanksvard, My Garden Slumbers

The Spirit of Gardening Website

Over 3,800 Quotations, Poems, Sayings, Quips, One-Liners, Clichés, Quotes, and Insights
Arranged by Over 250 Topics
Over 15 Megabytes of Text
Over 21 Million Webpages (excluding graphics) Served to Readers Around the World
From January 1, 1999 through March 1, 2011
This webpage has been online since January 1999
Compiled by Karen Garofalo and Mike Garofalo from Red Bluff, California
How can you help Karen and Mike improve and maintain this webpage?
Information for Advertisers and Affiliate Marketers
Last Updated: March 26, 2011