Blanche Karen Eubanks Garofalo
Karen Garofalo lives in Red Bluff, California.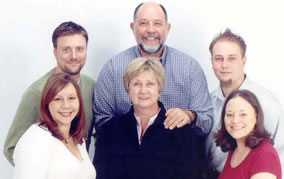 Alicia, Karen, April
Sean, Mike, Michael
2005
I am over sixty year of age. I am a wife, a mother, a mother in law, and a grandmother. I have worked as a special education teacher's aide in Tehama County for the past 11 years. I enjoy reading, gardening, birding, Internet surfing, communicating with family and friends, creative cooking, nature studies, and much more. I am a busy woman living a blessed life.
Michael, my husband and partner, and I have been living in Red Bluff, California since his semi-retirement in 1998. For the past 13 years, we have been indulging ourselves in the rich beauty and bounty of Red Bluff. Here we have the most wonderful views of the mountains that surround us and cradle us in this valley. We enjoy stunning sunrises and sunsets. Mother Earth is good to us!
I was born in a tiny town in central Indiana. My parents were hard working, religious, loving, nature oriented and kind. I have three older sisters, that I love dearly. My parents moved to Southern California in 1958, looking for more work and a better life - which we enjoyed. I completed elementary school, junior high, and high school in Bell Gardens. I met Michael in my senior year of high school, and we married the January following my graduation. I was working for the telephone company and Mike was working for a public library and doing university studies.
While Mike was serving in the United States Air Force at Keesler Air Force Base, we lived for four years in Biloxi, Mississippi. One of the very memorable experiences was living through Hurricane Camille and its aftermath. I began working as an assistant P. E. Coach at Popps Ferry elementary school, during a time of changing race relations in the South. My eyes were opened to the many difficulties of children in those times.
We returned to live and work in Southern California. Mike worked as a Librarian for 30 years for the County of Los Angeles Public Library. After 9 years of marriage we decided to begin our family. Our daughter, Alicia, and son Michael, made up our happy family. We lived next door to Mike's parents for 16 years in Hacienda Heights while our children were growing up.
We've have seen our children grow into responsible adults, beautiful human beings, and they are a great pleasure. Alicia graduated from California Polytechnic University at Pomona, where she met her love, Sean Flinn, a business student. They married and live in Portland, Oregon. They are a successful professional couple, with two of the most wonderful little girls possible! Mick attended Shasta College in Redding, learning the ins and out of the culinary world in his work. He met his love, April, in the nearby town of Corning, and were married in 2005. Mick and April moved to Portland where he graduated from the Western Culinary Institute. Mick is the Chef and co-owner of the Blue Pig Cafe in Portland. Mike and I visit Oregon quite often.
Mike and I are both on Facebook.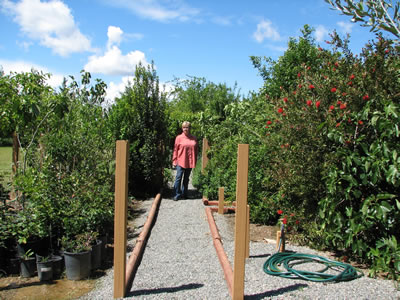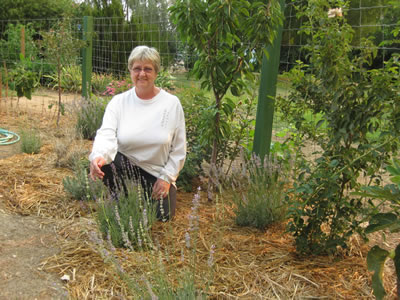 Karen Garofalo in her Red Bluff garden.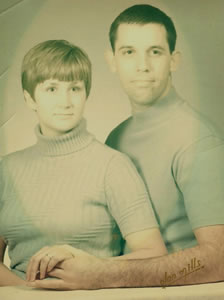 Karen and Mike in 1969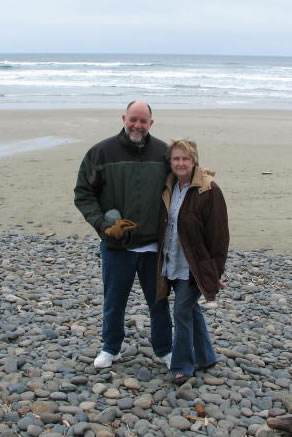 California Beach 2007
Michael P. Garofalo - A Brief Biography
Blanche Karen Eubanks Garofalo - A Brief Biography
February 14, 2011