Cuttings - July
Haiku, Concrete and Short Poems
By Mike Garofalo
Red Bluff, Tehama County, Northern California

bandaged fingers
slowly wiping
bloodstained knife
Overcast summer day –
pigeons touch down
on cooler ground.
Everything limp
under the sun's whip–
yearning for darkness.
Cornstalks swaying
knee high–
Fourth of July.
Slowly watering
heavy grape vines–
moonlit garden path.
sun burnt
wasted land
bristling with star thistles
Rising sun
lifts the long shadows–
cattle move again.
Only hours before they die, dragonflies;
wildly mating, before our eyes.
sitting naked
alone–
then she comes home
our lips smack
separating
our fantasies
scent of her flowers
woozy
kissing her knee
ruckus on
damp sheets all askew–
panting face to face
trembling together
we explode!
groaning ...
Sharpening the shovel
Shining edge of steel
Sparks
fresh tender corn
my neighbor's pride and prize,
shared
Hot night–
my panting dog
stares in the screen door.
A hole in my boot–
deep cracks
in the baked brown clay.
American holiday–
dogs bark
from pickup trucks.
In the right place at the right time,
tomato worms on tomato vines.
She is perfectly still, calm and concerned;
poised by the vines, hunting for worms.
On the pond
glaring sun–
silvery halos.
sipping 7 and 7
lazy eyed;
the sun sets
Threatening rain–
the willow bows
down to the gusts.
When I asked you to water the plants,
I did not expect you'd unzip your pants.
Wolf spiders
prowling the night–
crickets sound alarmed.
the wind stopped
I stare
listening to Bach
Holiday weekend slipping away,
children depart–
one last hug.
Crushed in a book,
a flat oak leaf
kindles a deep memory.
Thunderstorms on the Fourth do flash and roar;
flag folded, fireworks boxed, we watch from the door.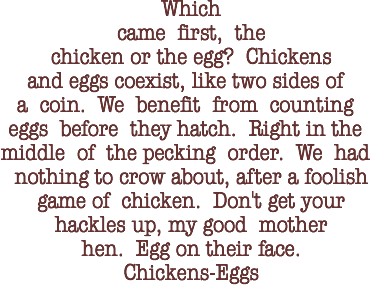 misplaced my work gloves
again
annoyance
Dried grasses
crackling underfoot–
singing summer songs.
Pond rising,
unfilling, filling ...
a blur of ripples.
Thirty years, or months
or minutes writing haiku–
sun, moon, eclipses.
Yosemite summers
from the Ice Age of my youth–
"Let the fire fall!"
smoky campfires
border the cold Merced–
young mothers laugh
my first cup of coffee
one cold morning–
bigwig Junior Ranger
mountains to mountains
the Great Valley–
sweltering haze
Unraveling out of seeds,
bursting forth from Gaia's dark womb -
tomato vines and squash bushes
filled with flowers and fruits aplenty.

We dance around Chaos,
praying for life,
wanting the future,
wanting the taste on our tongues,
wanting, wanting … Eros in our hearts.
Memories of her are dimming in my old mind;
yet, crossing a decade, mom's soft smile still shines.
A bit stiff and sore
we sip water in the shade;
our day's gardening done,
admiring what we've made.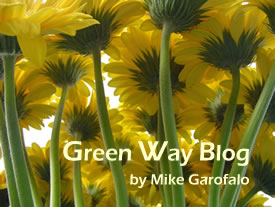 Cowboy poems in hand
she fell asleep–
the cadence of snoring.
114Ί F
(few move)
even ole
an
ders
dr
o
o
p
Cut logs
stacked three stories high–
screeching mill saws.
a dead frog
covered with
flies: eating and laying eggs
Our three ducks
all dead in three years–
coyote dinners.
Rectangular lakes
four acres flat:
rice seedlings greening up.
Waiting, waiting, waiting ...
Yes!
Two acre feet
comes flowing
down
the dry
ditch.
"cool summer morning"
three words
from the lips of Eros
My wife
picking peppers and squash–
a smile on her face.
cloudless summer sky
pure sunshine
Hot
white oleanders
dry brown clay
July
along this gravel road–
few travel
but lizards
Fan cooled midday nap--
a pleasant dream:
a football game in the rain
Drunken gun zealot, loud-mouthing his rights;
Everyone silent, put-off, uptight.
Worldwide
many suffer
even as peaches ripen.
Exactly at noon–
the branch cracks,
loaded with peaches.
One by one they drop
on the ground, ripe peaches–
at day's end.
Hot winds:
red dry faces,
wilted leaves
We laugh out loud–
frogs leap from the bank
scattering ripples on the pond.
The Vietnamese
roadside strawberry stand
sold out. Sign up: CLOSE
The hammer falls
on shadowed ground–
view from the arbor top.
At the edges of one mind are other minds.
Everything gives birth to something;
One thing is indebted to everything.
I water the peach, peaches feed me in time.
Soil, sun, rain, sky ...
Four Elements embracing,
Intertwined in mind.
Unfathomable Matrix;
Scaffolds on scaffolds
Grounded in Otherness.
Below seeds, flowers, leaves,
stems, roots ...
Below wet cells embraced,
Below atoms dancing on Energy ...
Deeper and deeper below into
What? A Plenitude, sacredness.

Worldlink TV:
window to the Third World's
life, work and woes.
Good weather all the week, but come the weekend the weather stinks.
Springtime for birth, Summertime for growth; and all Seasons for dying.
Ripening grapes in the summer sun - reason enough to plod ahead.
Springtime flows in our veins.
Beauty is the Mistress, the gardener Her salve.
A soul is colored Spring green.
Complexity is closer to the truth.
All metaphors aside - only living beings rise up in the Springtime; dead beings stay quite lie down dead.
Winter does not turn into Summer; ash does not turn into firewood - on the chopping block of time.
Fresh fruit from the tree - sweet summertime!
Gardens are demanding pets.
Shade was the first shelter.
When the Divine knocks, don't send a prophet to the door.
One spring and one summer to know life's hope; one autumn and one winter to know life's fate.
Somehow, someway, everything gets eaten up, someday.
Relax and be still around the bees.
Paradise and shade are close relatives on a summer day.
Absolutes squirm beneath realities.
The spiders, grasshoppers, mantis, and moth larva are all back: the summer crowd has returned!
To garden is to open your heart to the sky.
Dirty fingernails and a calloused palm precede a Green Thumb.
Time will tell, but we often fail to listen.
Seeing with one eye and feeling with the other does help bring things into focus.
Round things are very nice - fruit, women, the earth.
Gardening is a passion to continue, despite failure and uncertainty.
The empty garden is already full.
Gardeners learn to live in worm time, bee time, and seed time.
- Pulling Onions, by Michael P. Garofalo

Cuttings: May June July August September
Months and Seasons
Quotes, Poems, Saying, Lore, Myths, Celebrations
Holidays, Gardening Chores


---
---
Copyrighted © 2008 by Michael P. Garofalo.
Green Way Research, Red Bluff, California.
All rights reserved.
I Welcome Your Comments, Ideas, Contributions, and Suggestions
E-mail Mike Garofalo in Red Bluff, California

Cuttings: July - Hot Summer Days
Haiku, Concrete and Short Poems by Michael P. Garofalo
First Distributed on the Internet WWW in September 1999.
Months, Seasons: Poems, Quotes, Sayings, Lore, Celebrations, Myths, Gardening Chores
Cuttings - Haiku, Concrete, and Short Poems by Mike Garofalo