Strings on Your Fingers
String Figures, Tricks, Catches, Knots, Designs, and Cat's Cradle Games
GATE Workshop for Students in Grades 3rd to 7th
Olive View, West Street and Woodson Elementary Schools
Maywood Middle School
Also Presented to the SERRF After-School Program Students
Corning Union Elementary School District

2002 - 2007
Location: Maywood Middle School Library
1666 Marguerite Avenue, Corning, CA
Children participating in this workshop will learn how to make various string figures and perform various tricks and catches with a loop of string. They will be introduced to the use of string figures in storytelling in cultures all around the world. They will prepare performance cards with artwork and notes. They will learn to read and follow written instructions for making string figures, and learn how to teach others to make string figures. They will be introduced to print and on-line resources for learning more about string figures and creative art projects using string and yarn. They will perform short string figure skits for others. They will learn about how language and expectations affect what we see.
They will learn about the differences between the applied and the fine arts.

Students from the Olive View School will gather at Olive View after school and then will be escorted across the street to the Maywood Middle School Library by the GATE teacher. Students from the West Street and Woodson Schools will be bused to the Maywood Middle School. Parents are asked to pick up their children at the Maywood Middle School at 4:30 p.m.
Many of the books used in this String Figures GATE Class are available from the
Olive View, West Street, Maywood Middle, and Woodson School Libraries:

Cat's Cradle; A Book of String Figures. By Anne Akers Johnson. Palo Alto, California, Klutz Press, 1993. 36 pages. ISBN: 1878257536.
Fascinating String Figures Edited by the International String Figure Association. Dover Publications, 1996, 1999. 78 pages. ISBN: 0486404005.
String Figures and How to Make Them: A Study of Catís-Cradle in Many Lands. By Caroline Furness Jayne. New York, Dover Publications, 1906, 1962. Index, illustrations, 407 pages. ISBN: 48620152X.
String Games from Around the World. By Anne Akers Johnson. Palo Alto, California, Klutz Press, 1995. 70 pages. ISBN: 1570540403.

Good Books to Buy for Children or Adults as Gifts for Birthdays, Holidays, Christmas, or Just for Fun
Click on the book cover photographs for more ordering information.
Website Resources: Strings on Your Fingers. By Michael P. Garofalo. This website includes an extensive annotated index to string figure websites, a bibliography of string figure books, notes on recommended books for children, quotes about string figures, and photos of the instructor. URL Address: http://www.gardendigest.com/string/index.htm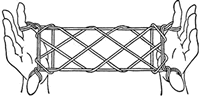 Return to Homepage: Strings on Your Fingers

© 2002 - 2010, Green Way Research, Red Bluff, California
Michael P. Garofalo, M.S., All Rights Reserved
Telephone Mike Garofalo: 530-200-3546
Write Mike Garofalo: 23005 Kilkenny Lane, Red Bluff, California 96080

A Short Biography of Mike Garofalo

Strings on Your Fingers, Version 2.1 March 1, 2010
First published on the Internet in 2002
Updated in 2004, 2005, 2007, 2010
Mike Garofalo, String Figures, String Tricks, Knots Artist Performer Storyteller
American Indian Arts and Crafts

Children's Programs and Workshops and Performances of String Figures Art by Mike Garofalo
School, Library, Club Workshops and Performances of String Figures and String Arts and Crafts by Mike Garofalo
American Indian Arts and Crafts Workshops and Performances of String Figures by Mike Garofalo
String Figures from Around the World Presentations, Performances, Lectures by Mike Garofalo
Children's Parties String Figures and Games Arts and Crafts by Mike Garofalo
Red Bluff, Tehama County, North Sacramento Valley, Northern California, U.S.A.
Cities and small towns in the area: Oroville, Paradise, Durham, Chico, Hamilton City,
Corning, Rancho Tehama, Los Molinos, Tehama, Proberta, Gerber, Manton, Cottonwood,
Anderson, Shasta Lake, Palo Cedro, Igo, Ono, Redding, Shasta, Colusa, Willows,
Fall River, Montgomery Creek, Alturas, McCloud, Dunsmuir, Yreka, Happy Camp,
Shingletown, Burney, Mt. Shasta City, Weaverville, Williams, Chester, Orland,
Susanville, Weed, Gridley, Marysville, Yuba City, NorCalifia, CA, California.

Children's Programs and Workshops and Performances of String Figures Art by Mike Garofalo
School, Library, Club Workshops and Performances of String Figures and String Arts and Crafts by Mike Garofalo
American Indian Arts and Crafts Workshops and Performances of String Figures by Mike Garofalo
String Figures from Around the World Presentations, Performances, Lectures by Mike Garofalo
Children's Parties String Figures and Games Arts and Crafts by Mike Garofalo