Cuttings - Summer
Haiku, Concrete and Short Poems
By Mike Garofalo
Red Bluff, Tehama County, Northern California

Only hours before they die, dragonflies;
wildly mating, before our eyes.
sitting naked
alone–
then she comes home
our lips smack
separating
our fantasies
scent of her flowers
woozy
kissing her knee
ruckus on
damp sheets all askew–
panting face to face
trembling together
we explode!
groaning ...
Moonflowers aglow
along the lattice walls–
a candlelit porch.
Going to and fro–
footprints on the gravel path
silently pacing.
Freely
jumping over our childish
limitations.
Duck feathers
drifting on the pond–
dappled dusk sky.
sunburnt
wasted land
bristling with star thistles
This cat in my lap
purring, eyes closed, ears back–
fur on my fingers.
In the right place at the right time,
tomato worms on tomato vines.
She is perfectly still, calm and concerned;
poised by the vines, hunting for worms.
114Ί F
(few move)
even ole
an
ders
dr
o
o
p
Sharpening the shovel
Shiny edge of steel
Sparks
Black figs fattening
in the bright sun–
birdless skies.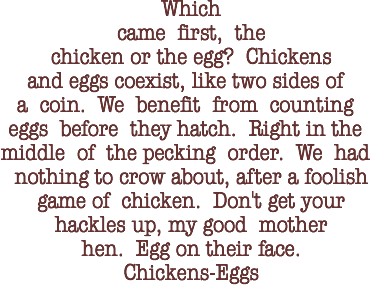 morning coffee sans sugar
sipped in silence--
still her cold shoulder
Crape myrtle, brilliant red, bursting forth;
Hiding the garden.
Some days, only the Garden, entire, serene;
Yet, hiding from sight, shy, single plants.
Seeing Both, seldom, but as One:
Sweat poured from my startled brow,
Dripping on the dry earth,
And all became Sunshine
And shadows of surprise unraveling.
The back door
Bangs shut!
September gust.
Threatening rain–
the willow bows
down to the gusts.
Opening bell
echoes from the canyon walls–
raindrops on the river.
The sounds of rocks bouncing off rocks;
the shadows of trees traced on trees.
I sit, still.
The canyon river chants,
moving mountains.
The sermon spun on the still point:
dropping off eternity, picking up time;
letting go of self, awakened to Mind.
Duck feathers
floating on the pond–
dappled dusk sky.
I was thinking about "the Absolute"
(whatever that is)
yesterday. (Philosophers enjoy
the rush of mental masochism:
bondage to leathery ideas,
painful flagellation with cutting words,
the humiliation of utter confusion.)
Absolute Zero - Death!
Clearly, a deep shivering Super-Conducting
Absolute No.
Then,
The Past: a second ago, a century ago...
Dead Time - absolutely kaputt!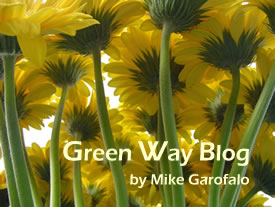 dark green
bean field -
blazing sun
Bad karma bleeding
over centuries of hate;
a heartless eye for a blind eye,
a toothless scream for another.
We wiped away
our tears–
late summer sunset.
My wife
picking peppers and squash–
a smile on her face.
Drunken gun zealot, loud-mouthing his rights;
Everyone silent, put-off, uptight.
We laugh out loud–
frogs leap from the bank
scattering ripples on the pond.
Soil, sun, rain, sky ...
Four Elements embracing,
Intertwined in mind.
Unfathomable Matrix;
Scaffolds on scaffolds
Grounded in Otherness.
Below seeds, flowers, leaves,
stems, roots ...
Below wet cells embraced,
Below atoms dancing on Energy ...
Deeper and deeper below into
What? A Plenitude, sacredness.
A field of star thistles–
full of sound
at twilight.
Tall white fountain in the garden's shade,
Or cold white mountain beyond the glade,
Or brighter lights at the tunnel's end?
Stunned, but undead, awakened to begin
Again - Second Chances; seven lives left.
Tricked the Reaper, death stolen; a celebrated theft.
Something strange hides in this day:
what will it be, what will it say?
Jackrabbits munching in the garden,
shotgun in my hand–
yes or no?
Shriveled figs
hang on the branch–
hospice courtyard.
campus clarion
keeps the pace for the place
time after time
This cat in my lap
purring, eyes closed, ears back–
fur on my fingers.
open gate
saluting
daybreak
His rice field ripens
in September sunshine–
he died today anyway.
Restless bull
wants his cows–
gate locked.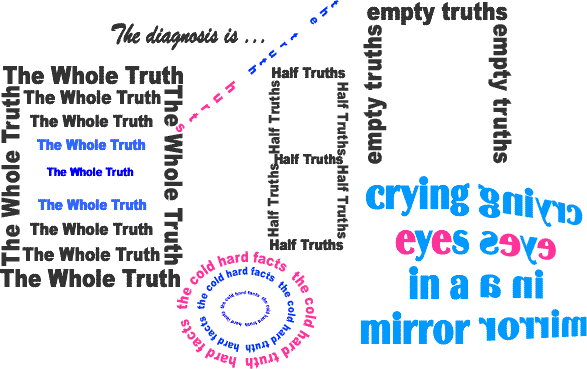 Snarling heat
refusing to retreat–
Dog Days
A few cards
short of a full deck;
he played well anyway.
Logging rigs and river
roaring down Klamath Canyon–
cold rain falls.
Leaf after leaf
turns yellow–
the fall of summer.
Good weather all the week, but come the weekend the weather stinks.
Springtime for birth, Summertime for growth; and all Seasons for dying.
Ripening grapes in the summer sun - reason enough to plod ahead.
Springtime flows in our veins.
Beauty is the Mistress, the gardener Her salve.
A soul is colored Spring green.
Complexity is closer to the truth.
All metaphors aside - only living beings rise up in the Springtime; dead beings stay quite lie down dead.
Winter does not turn into Summer; ash does not turn into firewood - on the chopping block of time.
Fresh fruit from the tree - sweet summertime!
Gardens are demanding pets.
Shade was the first shelter.
When the Divine knocks, don't send a prophet to the door.
One spring and one summer to know life's hope; one autumn and one winter to know life's fate.
Somehow, someway, everything gets eaten up, someday.
Relax and be still around the bees.
Paradise and shade are close relatives on a summer day.
Absolutes squirm beneath realities.
The spiders, grasshoppers, mantis, and moth larva are all back: the summer crowd has returned!
To garden is to open your heart to the sky.
Dirty fingernails and a calloused palm precede a Green Thumb.
Time will tell, but we often fail to listen.
Seeing with one eye and feeling with the other does help bring things into focus.
Round things are very nice - fruit, women, the earth.
Gardening is a passion to continue, despite failure and uncertainty.
The empty garden is already full.
Gardeners learn to live in worm time, bee time, and seed time.
- Pulling Onions, by Michael P. Garofalo

Cuttings: May June July August September October
Months and Seasons
Quotes, Poems, Saying, Lore, Myths, Celebrations
Holidays, Gardening Chores


---
---
Copyrighted © 2008 by Michael P. Garofalo.
Green Way Research, Red Bluff, California.
All rights reserved.
I Welcome Your Comments, Ideas, Contributions, and Suggestions
E-mail Mike Garofalo in Red Bluff, California

Cuttings: Summer: July, August, September - Hot Summer Days
Haiku, Concrete and Short Poems by Michael P. Garofalo
First Distributed on the Internet WWW in September 1999.
Months, Seasons: Poems, Quotes, Sayings, Lore, Celebrations, Myths, Gardening Chores
Cuttings - Haiku, Concrete, and Short Poems by Mike Garofalo